Shaping the Future of Leadership
Championing Diversity Recruitment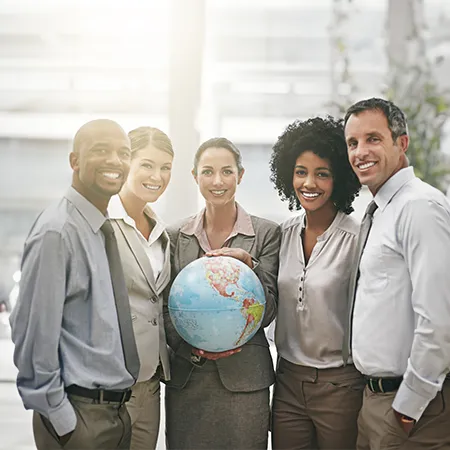 At Vantedge Search, we understand that Diversity, Equity, and Inclusion (DEI) are not just buzzwords, but critical pillars that drive the success of any forward-thinking organization. As a leader in diversity recruitment, we are deeply committed to fostering diversity and inclusion, recognizing their pivotal role in creating high-performing teams that reflect the vibrant diversity of the communities they serve.  
Our DEI recruiting strategy is designed to ensure an equitable talent acquisition process, from sourcing a diverse pool of candidates to inclusive onboarding. We firmly believe in the power of diversity in developing future leaders and in achieving superior business outcomes. Studies affirm that organizations with diverse leadership significantly outperform their peers, a testament to the benefits of workplace diversity.  
Trust Vantedge Search. We're not just headhunting—we're shaping the future of leadership. 
We have successfully filled a diverse range of executive roles in organizations across various industries. Our diversity recruitment expertise spans from C-suite positions to key leadership roles. Here are some of the significant roles we've filled:   
Chief Executive Officer (CEO)

We've helped organizations find visionary CEOs who can set strategic direction and drive business growth.  

Chief Marketing Officer (CMO)

We've placed CMOs who excel in brand development, market research, and creating marketing strategies that drive customer engagement and sales.  

Chief Strategy Officer (CSO)

We've found CSOs who can define and implement strategic initiatives that align with business goals and drive long-term growth.  

Chief Commercial Officer (CCO)

We've sourced CCOs who excel in developing and implementing commercial strategies, ensuring company growth and profitability.  
Head of Sales

We've sourced Heads of Sales who can lead and manage all sales operations and implement strategies to grow market share.  

Vice President Product Management

We've placed VPs of Product Management who oversee the development of innovative products, driving the company's product vision and strategy. 

Head of Business Development

We've placed Heads of Business Development who excel in identifying growth opportunities and building strategic partnerships to drive business expansion.  

Vice President Financial Planning and Analysis

We've helped companies find VPs of Financial Planning and Analysis who can provide strategic financial input and leadership on decision-making issues affecting the organization.  
These are just a few examples of the positions we've filled for our clients. Our services are adaptable to any industry and any level of seniority. As a dedicated leadership diversity and inclusion recruitment services provider, we are committed to finding the right leaders for your organization, no matter how specific or challenging your requirements may be. 
Why choose Vantedge Search for your Diversity and Inclusion Recruitment Service needs?
At Vantedge Search, we don't just provide executive diversity recruitment services—we embody the principles of DEI in everything we do. 
Our Diversity and Inclusion Implementation Process
Vantedge Search is a leader in executive talent search with a specialized focus on DEI. Here's how we strategically apply the concept to three the three steps of Recruitment, Integration, and Development. 
By following these steps, Vantedge Search helps clients build diverse and inclusive executive teams that not only reflect the communities they serve but also drive improved business outcomes. At Vantedge, we go beyond filling executive positions—we're shaping the future of leadership through DEI. 
Diversity Recruitment Search Across Diverse Industries​
At Vantedge Search, our diversity recruitment search expertise isn't just limited to roles—it extends across a multitude of industries. Our seasoned recruiters understand the intricacies and leadership dynamics unique to each sector. This deep industry insight ensures that we identify and place top-tier executives who not only fit the role but also align seamlessly with the industry's ethos and challenges.
Business Functions We Support
Vantedge Search's diversity recruitment search consultants have developed in-depth knowledge and hiring expertise, specializing in various domains and functions. This helps them understand the nuances in leadership needs and objectives of a specific sector, allowing them to serve our clients with bespoke solutions and advisory.  
Frequenly Asked Questions
1. How does Vantedge Search ensure an inclusive and equitable diversity recruitment process?
Vantedge Search ensures an inclusive and equitable hiring process by aligning our recruiting and hiring processes with DEI strategies. We ensure that the entire process, from sourcing candidates to onboarding, is inclusive and equitable, providing equal opportunities for all candidates. 
2. What strategies does Vantedge Search use to recruit diverse talent?
Vantedge Search uses a variety of strategies to recruit diverse talent. These include collaborating with DE&I professionals, leveraging our extensive network and partnerships to source a diverse pool of candidates, and ensuring our screening process is inclusive and unbiased. 
3. What industries does Vantedge Search serve?
Vantedge Search serves a wide range of industries in executive diversity hiring. Please refer to the specific services page or contact Vantedge directly for more detailed information. 
4. How does Vantedge Search's approach to diversity hiring contribute to better business outcomes?
It contributes to better business outcomes by fostering innovation, improving employee engagement, and building diverse and inclusive teams that reflect the communities they serve. We act as talent advisors and provide guidance to clients on DEI initiatives. Studies affirm that organizations with diverse leadership significantly outperform their peers, a testament to the benefits of workplace diversity. 
5. How can executive coaches or consultants advance DE&I in organizations?
Executive coaches or consultants can advance DE&I in organizations by providing training and coaching to executives and managers on how to build diverse and inclusive teams. They can also help organizations develop DE&I strategies and integrate DE&I into their business objectives.  
6. How can executive search professionals ensure that their candidate pools are diverse and inclusive?
Here are some ways: Use gender-neutral language in job ads and avoid language that may be exclusionary; add inclusive images to your website and job postings; build a diverse talent pipeline by partnering with organizations that serve underrepresented communities; ensure that your hiring squad is diverse and includes a wide variety of positions and people; use structured interviews with standardized questions to minimize bias; use technology to remove bias from the hiring process. 
7. What are some ways to build buy-in and ensure alignment for a DE&I executive recruitment strategy?
Ways to build buy-in and ensure alignment for a DE&I executive recruitment strategy include obtaining support from the CEO and executive team and including DE&I recruitment as a commitment in the company's business objectives. It is also important to align recruiting and hiring processes with DEI strategies. 
As an executive talent recruitment company, we understand the importance of building a diverse and inclusive leadership team. That's why we're committed to finding the best and brightest executive candidates from all backgrounds to help our clients achieve their goals. Our team of experienced recruiters is dedicated to promoting diversity, equity, and inclusion in the workplace, and we're looking for leaders who share our values.  
If you're ready to take your organization to the next level and make a real impact, we want to hear from you. Connect now!