Unlock the Power of Interim Management and Fractional Executive Leadership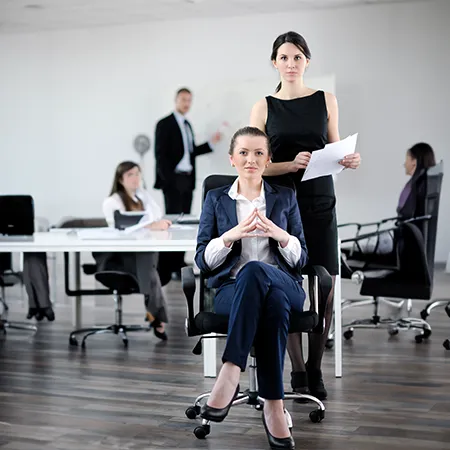 In today's dynamic business environment, organizations confront unparalleled challenges necessitating adept Interim and Fractional Executive leadership. As markets evolve and business paradigms shift, there's a pressing need for adept, strategic leadership to navigate these waters. Vantedge Search's Interim Management services and Fractional Executive solutions offer access to elite executives, ensuring there are no leadership voids, steering pivotal projects, and harnessing your business's momentum.
Whether you're in the market for an interim CEO, CFO, COO, CIO, or any C-suite role, our seasoned professionals ensure a precise match tailored to your distinct requirements. Armed with an external vantage point, deep industry acumen, and a legacy of success, our interim and fractional leaders infuse fresh insights, delivering unmatched value instantly.
Experience the transformative impact of our Interim Executive and Fractional Leadership services, paving the way for unparalleled growth and triumph.
We have successfully filled a diverse range of executive roles in organizations across various industries. Our fractional executive leadership expertise spans from C-suite positions to key leadership roles. Here are some of the significant roles we've filled:   
Head of Technology

We've placed technology leaders who are adept at aligning technology strategy with business goals, overseeing tech teams, and driving digital transformation initiatives to enhance organizational efficiency and innovation.

Head of Business Development

We've placed Heads of Business Development who excel in identifying growth opportunities and building strategic partnerships to drive business expansion. 

Head of Product Management

We've placed Heads of Product Management who excel in leading product teams, ensuring product-market fit, and driving the end-to-end product lifecycle, from ideation to launch and iteration.
Head of Strategy

We've positioned strategy leaders who are skilled in shaping the direction of the organization, analyzing market trends, and ensuring that the business remains competitive and poised for growth in its sector.

Head of HR

We've sourced top HR leaders who excel in talent acquisition, employee engagement, performance management, and crafting organizational cultures that foster growth and inclusivity.
These are just a few examples of the roles we've filled for our clients. Our services are adaptable to any industry and any level of seniority. As a dedicated interim and fractional leadership services provider, we are committed to finding the right leaders for your organization, no matter how specific or challenging your requirements may be. 
Why Choose Vantedge Search for Interim and Fractional Leadership Services?
Navigating the complexities of today's business world requires not just leadership, but the right kind of leadership. Vantedge Search stands as a paragon in providing interim and fractional executive services, ensuring organizations are equipped with top-tier talent tailored for their unique challenges. 
Vantedge Search's Comprehensive Leadership Recruitment Process
At Vantedge Search, we follow a meticulous and systematic process to ensure we find the best leaders for your organization. Our executive search process is designed to be thorough, efficient, and transparent, providing a white-glove experience for both clients and candidates:

Interim & Fractional Leadership Across Diverse Industries​
At Vantedge Search, our Interim & Fractional Leadership expertise isn't just limited to roles—it extends across a multitude of industries. Our seasoned recruiters understand the intricacies and leadership dynamics unique to each sector. This deep industry insight ensures that we identify and place top-tier executives who not only fit the role but also align seamlessly with the industry's ethos and challenges.
Business Functions We Support
Vantedge Search's Interim & Fractional Leadership consultants have developed in-depth knowledge and hiring expertise, specializing in various domains and functions. This helps them understand the nuances in leadership needs and objectives of a specific sector, allowing them to serve our clients with bespoke solutions and advisory.  
Frequenly Asked Questions
1. What are interim and fractional leadership services?
Interim and fractional leadership services involve hiring experienced executives on a temporary or part-time basis to fill leadership gaps or drive specific projects. 
2. How do interim and fractional leaders differ from full-time executives?
Interim leaders are typically hired for a fixed duration, ranging from several months to a year or more, to provide temporary leadership. Fractional leaders, on the other hand, work part-time, usually dedicating a few hours per week to the organization. 
3. What are the benefits of hiring interim or fractional leaders?
Cost savings: Hiring interim or fractional leaders can be more cost-effective than hiring full-time executives, as organizations only pay for the specific duration or hours worked. 
Flexibility: Interim and fractional leaders offer flexibility in terms of time commitments, allowing organizations to scale their leadership needs based on project requirements. 
Access to specialized expertise: These leaders bring specialized skills and experience to address specific challenges or opportunities within the organization. 
Reduced risk: Organizations can mitigate risk by hiring interim or fractional leaders who can quickly step in and make an impact without the long-term commitment of a full-time hire. 
4. How are interim and fractional leaders selected?
Leadership hiring companies utilize a rigorous screening process to identify potential leaders. This may involve reviewing resumes, conducting interviews, and checking references to ensure the candidates possess the necessary skills and experience. 
5. Can interim or fractional leaders work remotely?
Yes, depending on the nature of the role and the organization's requirements, interim and fractional leaders can work remotely or on-site, providing flexibility in terms of location. 
6. How long does it take to onboard an interim or fractional leader?
Onboarding timelines can vary depending on the specific role and organization. However, compared to hiring a full-time executive, the onboarding process for interim or fractional leaders is typically faster, allowing them to start making an impact sooner. 
7. Can interim or fractional leaders be extended or converted to full-time roles?
In some cases, organizations may choose to extend the engagement of an interim or fractional leader if the need persists. Additionally, if there is a mutual fit and interest, the arrangement can potentially transition into a full-time role. 
Ready to leverage the unparalleled benefits of interim executive and fractional leadership solutions? Engage with Vantedge Search today. Whether it's interim executive leadership, fractional recruiting, or bespoke executive solutions, we've got you covered.  
Don't let leadership challenges deter your growth. Collaborate with Vantedge Search, access top-tier executive talent, and set your organization on a trajectory of unmatched success.