Finding Leaders to Drive Your Success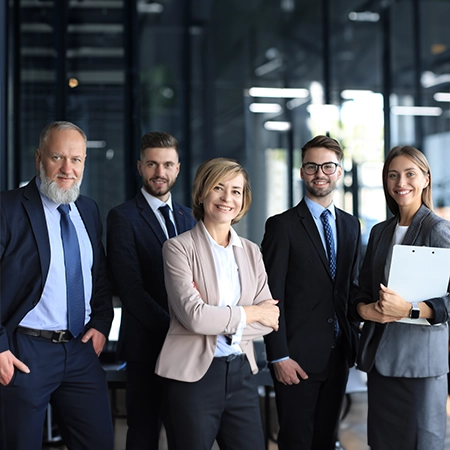 In the dynamic world of business, the right leadership can be the difference between staying stagnant and achieving unprecedented growth. At Vantedge Search, we specialize in headhunting exceptional leaders who can navigate the complexities of today's business landscape and propel your organization towards success. 
Our Executive Search services are not just about filling a position; they are about finding the perfect fit for your unique needs. We understand that each organization has its own culture, goals, and challenges. That's why we take the time to understand your business deeply, ensuring we can find C-suite or senior leaders who align with your vision and can drive your strategic objectives forward. 
Whether you're a startup looking for your first CEO or an established corporation seeking to strengthen your C-suite, Vantedge Search is your trusted partner in executive search. Let us help you find the leaders who will shape the future of your organization.
Our Executive Search Services
As a seasoned executive headhunting firm, we offer a comprehensive suite of Executive Search services, each tailored to meet the unique leadership recruitment needs of your organization: 
Contingent Search
Looking for leadership talent?
With the Contingent Search service, we tap into our extensive network & use the latest technology to quickly identify the right CXO or senior executives for you.
Retained Search
Need a dedicated search for high-level roles?
Our Retained Search service is the answer. We partner with you to understand your needs and find leaders who will shape your company's future. 
ETA-as-a-Service
Want a complete talent acquisition solution?
Our Executive TA-as-a-Service has you covered. From candidate discovery to onboarding, we handle the entire process, so you can focus on running your business.
Each of our executive headhunting services is designed with one goal in mind – to help your organization find the right leaders it needs to succeed. Contact us today to learn more about our Executive Search services and how they can benefit your organization. 
As an executive search agency, we've successfully filled a diverse range of executive roles in organizations across industries. Our executive talent acquisition expertise spans from C-suite positions to key leadership roles. Here are some of the significant roles we've filled:

Chief Marketing Officer (CMO)

Our executive search has placed CMOs who excel in brand development, market research, and creating marketing strategies that drive customer engagement and sales.

Chief Commercial Officer (CCO)

We've sourced CCOs who excel in developing and implementing commercial strategies, ensuring company growth and profitability.

Vice President Financial Planning and Analysis

We've helped companies find VPs of Financial Planning and Analysis who can provide strategic financial input and leadership on decision-making issues affecting the organization.

Chief Executive Officer (CEO)

We've helped organizations find visionary CEOs who can set strategic direction and drive business growth.
Vice President – Product Management

We've placed VPs of Product Management who oversee the development of innovative products, driving the company's product vision and strategy.

Head of Sales

We've sourced Heads of Sales who can lead and manage all sales operations and implement strategies to grow market share.

Chief Strategy Officer (CSO)

We've found CSOs who can define and implement strategic initiatives that align with business goals and drive long-term growth.

Head of Business Development

We've placed Heads of Business Development who excel in identifying growth opportunities and building strategic partnerships to drive business expansion.
These are just a few examples of the roles we've filled for our clients. Our executive search services are adaptable to any industry and any level of seniority. We are committed to finding the right leaders for your organization, no matter how specific or challenging your requirements may be. 
Why Choose Vantedge Search for Executive Search?
Choosing the right partner for your executive headhunting is a critical decision. At Vantedge Search, we believe our approach sets us apart: 
With Vantedge Search, you're not just hiring a service; you're gaining a partner committed to finding the leaders who will shape the future of your organization. Contact us today to learn more about our Executive Search services. 

Our Executive Search Process
At Vantedge Search, we follow a meticulous and systematic process to ensure we find the best leaders for your organization. Our executive search process is designed to be thorough, efficient, and transparent, providing a white-glove experience for both clients and candidates:

Our executive search process is designed to be collaborative and transparent. We keep you informed at every step, ensuring you have full visibility into the progress we're making. With Vantedge Search, you can be confident that we're finding the best leaders for your organization.

Executive Search Across Diverse Industries​
At Vantedge Search, our executive search expertise isn't just limited to roles—it extends across a multitude of industries. Our seasoned recruiters understand the intricacies and leadership dynamics unique to each sector. This deep industry insight ensures that we identify and place top-tier executives who not only fit the role but also align seamlessly with the industry's ethos and challenges.
Business Functions We Support
Vantedge Search's executive search consultants have developed in-depth knowledge and hiring expertise, specializing in various domains and functions. This helps them understand the nuances in leadership needs and objectives of a specific sector, allowing them to serve our clients with bespoke solutions and advisory.  
Frequenly Asked Questions
1. What is executive search?
Executive search involves finding and recruiting individuals for senior-level executive positions. As an experienced executive search agency, we specialize in identifying and attracting exceptional leaders who can navigate the complexities of today's business landscape and propel your organization towards success. 
2. What industries and functions do you specialize in?
We have extensive experience in a wide range of industries including Technology, Media & Communications, Professional & IT Services, Insurance, Banking & Financial Services, Consumer Markets, Healthcare & Life Sciences, and Industrial. We also specialize in various functions such as Digital, Analytics & e-Commerce, Information Technology, Sales & Marketing, Human Resourcess, Finance, Accounting & Risk, and Procurement & Supply Chain. 
3. What is the difference between retained and contingent search?
In a retained search, we work exclusively for the client company and are paid a retainer fee upfront. This type of search is typically used for senior-level positions. In a contingent search, we are only paid if the client hires a candidate we present. This type of search is often used for mid-level positions. 
4. How do you ensure the confidentiality of the executive search process?
We recognize the sensitive nature of executive search and are committed to maintaining the highest level of confidentiality. We handle all information, discussions, and searches with discretion to protect the interests of both clients and candidates. 
5. How long does the executive search process take?
The duration of the executive search process can vary depending on the complexity of the role, the level of the position, and the specific requirements of the client. However, we strive to conduct our searches as efficiently as possible while ensuring we find the best fit for each role. 
6. How do you assess potential candidates?
We conduct a thorough assessment of each potential candidate. This includes evaluating their skills, experience, leadership style, and cultural fit with your organization. We also conduct personal interviews and reference checks as part of our comprehensive assessment process. 
7. What is your approach to diversity and inclusion in executive search?
At Vantedge Search, we are committed to promoting diversity in leadership. We believe that diverse teams bring a range of perspectives, which can drive innovation and improve decision-making. We strive to present diverse candidate shortlists and work with clients who share our commitment to diversity and inclusion. 
8. What happens if a placement doesn't work out?
We stand by the quality of our placements and offer a guarantee period. If a placed candidate leaves or is terminated during the guarantee period, we will conduct a new search for the same position at no additional cost. 
9. How do you keep us updated during the search process?
We believe in transparency and regular communication. We provide regular updates throughout the search process, keeping you informed of our progress, any challenges encountered, and next steps. 
10. How do you source candidates for executive roles?
We leverage a variety of resources to source candidates. This includes our extensive network, industry contacts, targeted outreach, and advanced search techniques. We also conduct thorough research to identify potential candidates who may not be actively looking but could be a great fit for the role. 
11. Can you help with international executive searches?
Our comprehensive global network covers a variety of sectors and geographies. This breadth allows us to connect with a wide range of top-tier professionals. Regardless of your location or the industry you're in, we're equipped to find leaders who will elevate your business to new levels.
12. What makes Vantedge Search different from other executive search firms?
At Vantedge Search, we combine deep industry knowledge with a personalized approach. As a seasoned executive talent acquisition agency, we take the time to understand your business, culture, and specific needs. This allows us to find leaders who not only have the right skills but also align with your company's values and vision. We view our clients as partners, and we're committed to their long-term success. 
Ready to find the leaders who will shape the future of your organization? We're here to help. At Vantedge Search, we're committed to providing personalized, efficient, and successful executive search services. Whether you're looking to fill a C-suite position or seeking leadership for a specific function, our team is ready to assist.
Contact us today and let's start the conversation about your leadership needs.