Unlock Leadership Excellence with Vantedge Search's Executive Coaching Services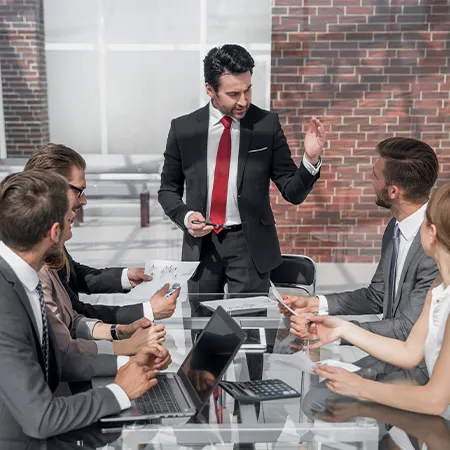 In today's competitive business landscape, Vantedge Search stands at the forefront of cultivating resilient leaders adept at driving transformational change and strategic decision-making. Our bespoke Executive Coaching services, including specialized C-suite coaching, focus on building a collaborative bond between the executive and coach. Through our approach, we emphasize self-awareness and transformative growth, ensuring leaders are equipped to handle uncertainty and make impactful decisions. 
Research underscores the significant advantages of executive coaching, with leaders displaying enhanced resilience, emotional intelligence, and heightened self-awareness. By training with Vantedge Search, executives not only refine their leadership capabilities but also bolster communication and team performance, ensuring the best outcomes for their organizations. 
With Vantedge Search, invest in leadership development to unveil your utmost potential. Our expert coaches are primed to elevate your leadership prowess. Take the step towards unparalleled leadership with us. 
At the forefront of leadership development, we specialize in providing tailored coaching sessions for diverse executive roles. Spanning various industries and departments, our areas of coaching expertise aim to empower individuals in key leadership positions. Below, we outline some of the primary areas we specialize in:
Head of Technology

We've trained leaders in technology to excel in driving technological advancements, fostering innovation, and ensuring that the technology infrastructure aligns with the company's objectives and goals.

Head of Business Development

We've helped individuals excel in identifying growth opportunities, establishing strategic partnerships, and driving business expansion.

Head of Strategy

We've provided coaching to strategy heads who define and implement strategic initiatives, aligning them with business objectives and driving long-term growth.
Head of Product Management

We've coached individuals in this role to oversee the development of innovative products, driving the company's product vision and strategy.

Head of HR

We've worked with HR leaders to strengthen organizational culture, drive talent management strategies, and ensure that HR practices align with business goals.
These highlighted areas represent only a fraction of our comprehensive coaching offerings. Adaptable and dynamic, our coaching services cater to myriad industries and levels of leadership. With our dedication to fostering growth and enhancing leadership capabilities, we ensure that we can meet and exceed the unique needs of any organization.
Why Choose Vantedge Search's Executive Coaching Services?
Choosing the right partner for your executive headhunting is a critical decision. At Vantedge Search, we believe our approach sets us apart: 
Empower your leadership journey and realize your potential with Vantedge's Executive Coaching services. Reach out to us today and take the first step towards extraordinary leadership. 
Vantedge Search's Executive Coaching Services: A Comprehensive Search Process
Overall, Vantedge Search's Executive Coaching services offer a collaborative and personalized approach to leadership development. By working with our experienced coaches, executives can enhance their leadership skills, improve communication, boost team performance, and achieve their goals. Our Executive Coaching services are tailored to the unique needs of busy executives, ensuring a comprehensive and effective approach to leadership development. 
Executive Coaching Services Across Diverse Industries​
At Vantedge Search, our Executive Coaching Services expertise isn't just limited to roles—it extends across a multitude of industries. Our seasoned recruiters understand the intricacies and leadership dynamics unique to each sector. This deep industry insight ensures that we identify and place top-tier executives who not only fit the role but also align seamlessly with the industry's ethos and challenges.
Business Functions We Support
Vantedge Search's Executive Coaching Services consultants have developed in-depth knowledge and hiring expertise, specializing in various domains and functions. This helps them understand the nuances in leadership needs and objectives of a specific sector, allowing them to serve our clients with bespoke solutions and advisory.  
Frequenly Asked Questions
1. What is executive coaching and how does it work?
Executive coaching is a structured process that facilitates growth and improvement in individuals aspiring to be effective leaders and executives. It facilitates a collaborative relationship between the coach and the leader, focusing on self-awareness, transformational change, and providing critical challenge and support.
2. What are the benefits of executive coaching for leaders?
Research has found that those who have had executive coaching become significantly more effective leaders, with increased resilience, emotional intelligence, and self-awareness. They're able to improve communication, decision-making, delegation, and other critical leadership skills. 
3. How can Vantedge Search's executive coaching services help my organization?
Vantedge Search's executive coaching services can help your organization manage important leadership transitions, sustain behavior change, and achieve better results. Our services are designed to enhance leadership skills, improve communication, boost team performance, and help leaders achieve their professional goals. 
4. How long does an executive coaching engagement typically last?
The length of an executive coaching engagement can vary depending on the goals of the leader and the organization. Typically, executive coaching engagements with Vantedge Search last between 6 and 12 months. 
5. How is executive coaching different from mentoring?
Executive coaching is a structured process that focuses on specific goals and outcomes, while mentoring is a more informal relationship that provides guidance and advice. 
6. How do I choose an executive coach?
When choosing an executive coach, look for someone who has experience working with leaders in your industry and who has a coaching style that aligns with your needs and goals. Vantedge Search's coaches have extensive experience in various industries and offer personalized coaching programs. 
7. Is executive coaching confidential?
Yes, executive coaching is confidential. At Vantedge Search, we provide a safe and confidential space for leaders to discuss their challenges and opportunities. 
8. How much does executive coaching cost?
The cost of executive coaching can vary depending on the coach and the length of the engagement. For specific pricing details, it's best to contact Vantedge Search directly. 
9. What is the difference between executive coaching and professional coaching services?
While both executive coaching and professional coaching services aim to help individuals improve their skills and achieve their goals, executive coaching is specifically tailored to individuals in leadership roles. Professional coaching can be broader and may also include career coaching, life coaching, and other types of coaching. 
10. Can executive coaching be done remotely?
Yes, executive coaching can be done remotely through video conferencing or phone calls. Remote coaching has become increasingly popular due to its convenience and flexibility.
11. What qualifications should an executive coach have?
An executive coach should have relevant experience in leadership development and coaching, as well as training and certification in coaching methodologies. Look for coaches who have a track record of success and who have worked with leaders in your industry.
Ready to unlock your leadership potential?  
There's no time like the present. Trust our world-class executive coaching services to empower you with the right growth mindset for navigating the demands of leadership effectively. 
The time to transform your leadership journey is now. Get in touch with Vantedge Search today to learn more about how we can help you become a more impactful leader.